National health spending is projected to grow at an average rate of 5.8 percent per year through 2024 to more than $5.4 trillion.1 And more than $1 trillion of that figure is expected to come from the pockets of private businesses.1
For Texas business owners and CFOs, these staggering numbers mean it's time to take action. But simply slashing benefits programs won't cut it. In 2015, 80 percent of Human Resources professionals leveraged health care benefits to retain employees at all levels of their organization and 66 percent said health benefits are important for recruitment.2
Texas Capital Bank consulted some of the benefits industry's most trusted resources to compile our top four tips to help you work with your Human Resources team to keep your business's health benefits costs from rising too sharply in the future, while still offering plans that will attract and retain top talent.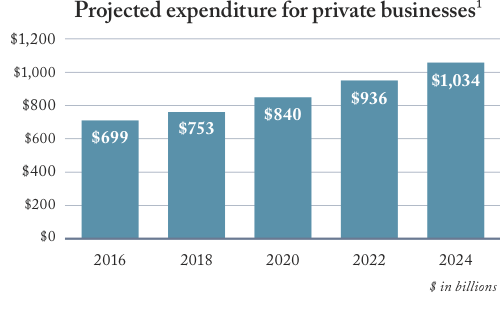 1. CHOOSE A BENEFITS ADVISOR TO HELP YOU NAVIGATE THE COMPLEXITIES OF HEALTH CARE
A benefits advisor can make sure that your investment in employee benefits delivers maximum returns, and will offset the overwhelming complexities of managing your business's benefits program, including:
- Selecting and – when possible – negotiating pricing with providers
- Exploring alternative funding mechanisms, such as HSAs, MRAs or self-funding
- Educating employees about prevention and providing them with price transparency
- Ensuring your policies are both compliant and competitive
A good benefits advisor will collect and analyze data on your employees, but should consider data beyond just the demographics of your company. Choose an advisor that has experience with other businesses in your industry, and make sure that the rates they negotiate are based on the demographics of the group of companies they serve within your industry, not just the demographics of your company. Aggregating industry data to determine rates helps contain costs.3 But don't depend on your advisor alone to analyze the data. Understand the data on your company, as well as the industry, so that you can actively manage the health of your employees and the company's total costs, rather than simply being a passive payer.4
2. STAY ABREAST OF REGULATIONS TO AVOID HEFTY FINES
The Affordable Care Act (ACA) continues to evolve, making it difficult for business owners and CFOs to stay abreast and keep policies compliant. For example, a new amendment that will be imposed beginning in 2020 assesses an excise tax on any benefits provided to employees that exceed a predetermined threshold.5 Ensure your Human Resources team is tracking federal and state regulations, and that you're aligned with them to update any forecasts for health care expenses should the landscape change. The national, state and city chapters of the Society for Human Resource Management, the National Business Coalition on Health, Texas Business Group on Health and DFW Business Group on Health are a few places where they can start.
As your company adjusts to the changing requirements of the ACA, however…for tips 3, 4 and references, download the full report here.
WHAT CAN WE DO FOR THE BUSINESS THAT YOU BUILT?
Our deeply experienced bankers are well-versed in how to overcome the varying challenges that face midsize businesses today, such as the rising cost of healthcare. Plus, our network is your network; we're always happy to connect our clients with contacts within our network that have overcome similar obstacles or with expertise on a particular topic.
To discuss your business's most pressing challenges and learn more about Texas Capital Bank, visit our website: www.texascapitalbank.com
---
Texas Capital Bank, N.A. is a wholly owned subsidiary of Texas Capital Bancshares, Inc. (NASDAQ®: TCBI) and is consistently recognized as one of Forbes' Best Banks in America. Member FDIC.