The public has repeatedly been told that pharmaceuticals are driving the health care affordability problem in the U.S. But just because you hear something over and over again doesn't necessarily make it true. It is important to set the record straight, separating fact from fiction.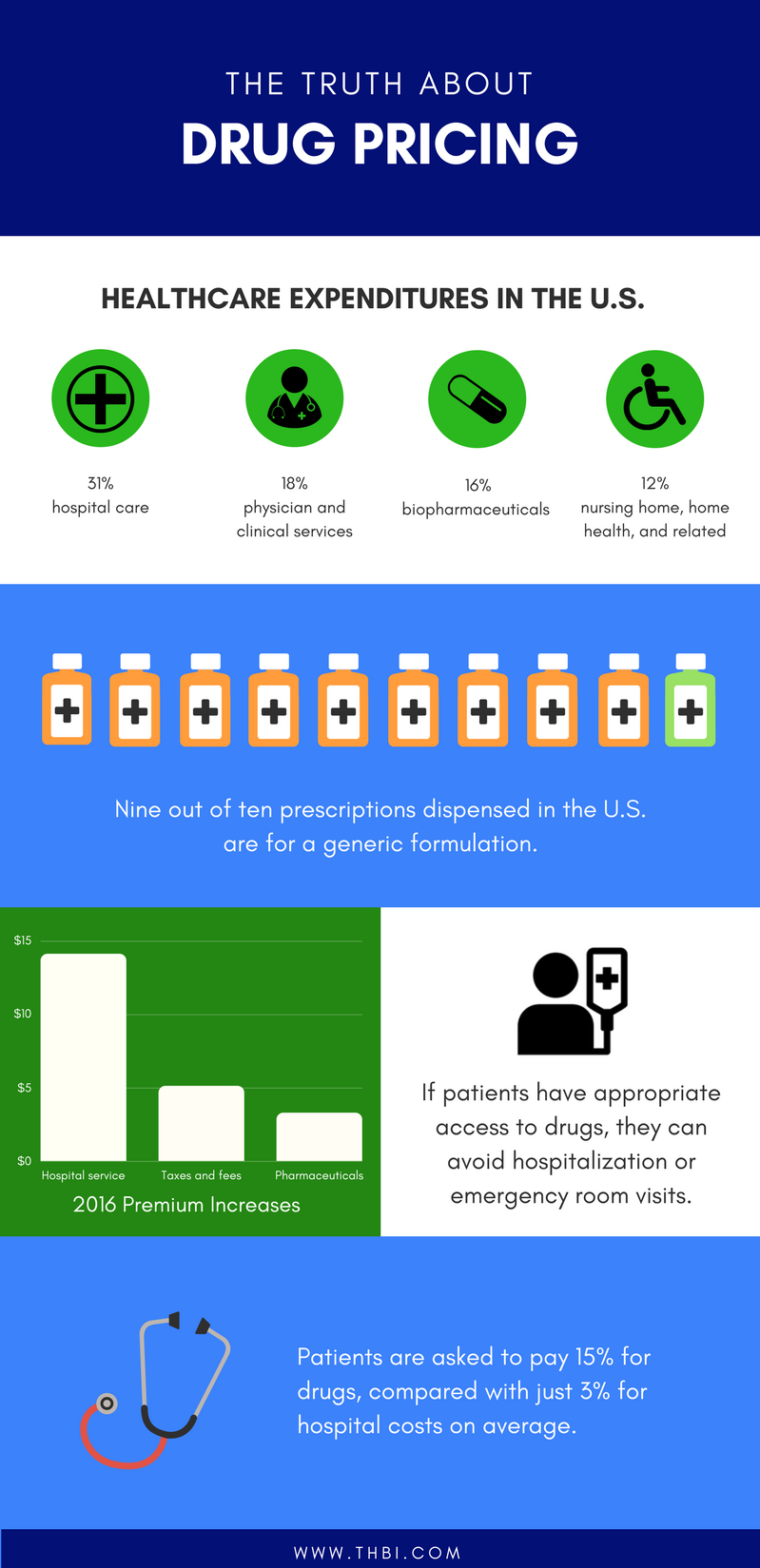 Fiction: Pharmaceuticals consume the majority of healthcare spending in the U.S.
Fact: Based on publicly available data from the Centers for Medicaid and Medicare Services (CMS), biopharmaceuticals comprise approximately 14-15 percent of healthcare expenditures in the U.S. This is for both outpatient medications, which most patients take, and drugs provided to patients in clinics or provider offices. Another way of measuring this spending is against gross domestic product (GDP). Hospital costs are 5.9 percent of GDP; provider services, 3.7 percent; pharmaceuticals, 1.9 percent.
Fiction: Pharmaceutical costs are rising faster than overall healthcare expenditures.
Fact: The increase in pharmaceutical costs for the past several years has hovered at the same level as overall healthcare cost growth and has been at times lower than provider and hospital cost increases. This trend is expected to continue into the next decade. Three of the largest pharmacy benefit managers (PBMs), which manage close to 75 percent of all prescriptions in the U.S., have reported that their year-over-year cost increase in 2016, after all rebates, discounts and concessions were taken into consideration, was approximately 2.5 percent to 3.8 percent, which is in line with general inflation.
Fiction: Pharmaceutical expenditures are responsible for ever-increasing insurance premiums.
Fact: Pharmaceuticals were responsible for only $3.29 of the average premium increase of $25.26 in 2016 (approximately 13 percent), which was less than taxes/fees ($5.12, or about 20 percent) and hospital/professional services ($14.12, or about 56 percent) according to Avalere Health.
Fiction: Patients' out-of-pocket charges, as a percentage of cost, are smaller for pharmaceuticals than for hospital and physician services.
Fact: Out-of-pocket spending for biopharmaceutical costs is very high compared to other parts of the health-care system. Patients on average are asked to pay 15 percent for drugs, compared with just 3 percent for hospital costs. This is despite pharmaceuticals being the most cost-beneficial intervention in healthcare. Study after study has demonstrated that if patients have appropriate access to drugs, they can avoid hospitalization or emergency room visits.
Fiction: The majority of patients take brand-name medicines.
Fact: Nine out of ten prescriptions dispensed in the U.S. are for generic formulations. This is great news for American consumers, as generic drug prices are in deflationary mode. According to a report by Drug Channels, the overall price for mature generic drugs is deflating by about 10 percent per year, and several generic drugs have dropped significantly in price over the past four years. Finally, less than 1 percent of the U.S. population uses medicines that cost more than $50,000 per year, according to a report published by Express Scripts in 2015. It is important that we identify this small group of patients and ensure that their out-of-pocket costs are not impeding their access to the right therapies.
Managing increasing healthcare costs is an important societal issue that policymakers need to pay attention to. However, policymakers can only implement effective solutions by using correct data in order to assess the root cause of the problem. Addressing a problem based on a fictional storyline will provide nothing more than false answers and potentially poor outcomes for patients.