George H. W. Bush's extraordinary relationship with Texas A&M University has produced a generation of public servants who graduated from the Bush School of Government and Public Service before securing positions across local, state and national government organizations.
Meanwhile, more than 1 million people from around the world have studied Bush's life and legacy while touring the presidential library and museum dedicated to telling his story.
A sculpture between the two buildings honors the namesake of the school and museum, demanding attention from passersby with a distinguished pose.
Hundreds of people daily pass the bronze on the way to class or to the museum — some to receive an education in public service, others to learn about the immeasurable contributions the 41st president made. As the names, faces and places of origin change over the years, the larger-than-life depiction of the former president stoically gazes westward, eyes fixated beyond the Texas horizon, as a physical anchor to the spirit of public service that the two buildings embody.
More people will become familiar with the statue as they make their way to a new destination near the reflection pond, over a bridge through a wooded creek bed, where Bush was laid to rest Thursday, Dec. 6 alongside his wife and former First Lady Barbara Bush, who passed away in April, and their daughter Robin, who passed away in 1953 at age 3 after battling leukemia.
The man who inspired generations of Americans by living his guiding principle of "public service as a noble calling" is no longer physically present to spread his message, but just as the statue stands tall and immune to the passing of time, Bush's spirit of selflessness and dedication to public service will carry on at Texas A&M.
"He truly has a lifetime of service and I think that matches wonderfully well with what the essence of this university is all about," Texas A&M University President Michael K. Young said. "The opportunity and the privilege of a great education is to use it on behalf of others, and he certainly emblemizes a life of service on behalf of others."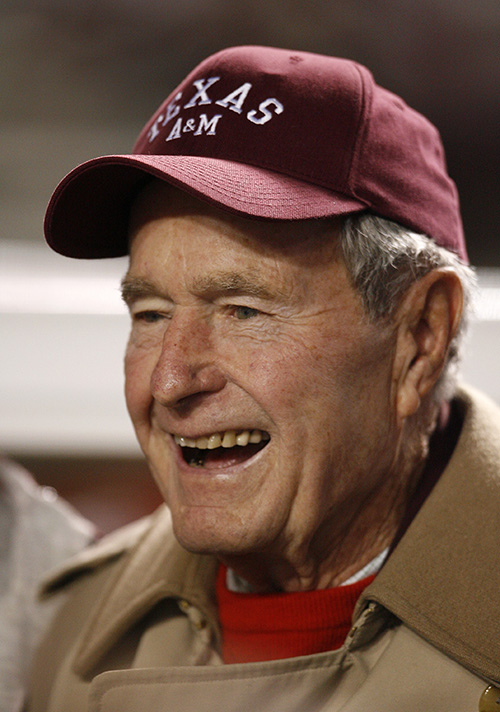 A Man About Campus
George and Barbara Bush were frequent visitors to campus, and even had an apartment attached to the Annenberg Presidential Conference Center. Between attending athletic events, delivering commencement speeches, taking walks through campus and making surprise appearances at the Bush Library, the two helped raise the intellectual dialogue at the university. Their presence made campus a destination for current and former elected representatives, world leaders, acclaimed academics and influential figures who participated in speaking engagements on Texas A&M's campus.
Former Soviet leader Mikhail Gorbachev, former German Chancellor Helmut Kohl, former British Prime Minister Margaret Thatcher, U.S. Sen. Ted Kennedy, U.S. Rep. Nancy Pelosi and President Barack Obama are a few of the scores of major names who came to campus because of their ties to and admiration for President Bush.
His ability to host leaders and have them engage with the university was representative of his passion for bipartisanship and public service.
"Our mission was not to groom future politicians. Some would go on to politics, but it was to groom those who would serve the people, and that meant a nonpartisan approach was absolutely key," former Bush School Dean Ambassador Ryan Crocker said. "If you're going in to public service, you must have that mindset."
Crocker served as dean of the Bush School from 2010 to 2016 and said he takes pride in knowing that the students who were molded by the idea that public service is a noble calling now staff government and non-government agencies at the highest levels.
"He believed that 100 years from now, people would look at the Bush School, and it was from this school that our local, state and federal leaders came generation after generation," Crocker said. "That is exactly what is happening as I look around."
Preserving A Legacy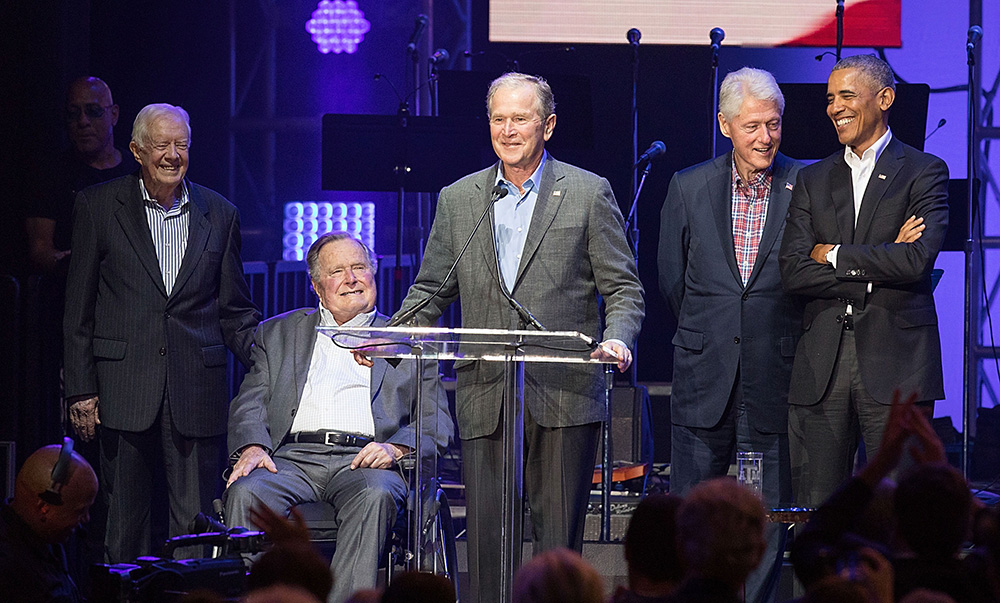 Texas A&M University leadership now has the honor of playing a role in protecting and growing Bush's legacy and supporting that 100-year mission. Among them is current Bush School Dean Gen. Mark A. Welsh III, whose office overlooks Bush's statue.
Prior to joining Texas A&M, Welsh served as Chief of Staff of the U.S. Air Force from 2012 to 2016 and he said he admired Bush's commitment to patriotism, service and decorum, three guiding principles Welsh and Bush lean on as a result of military service.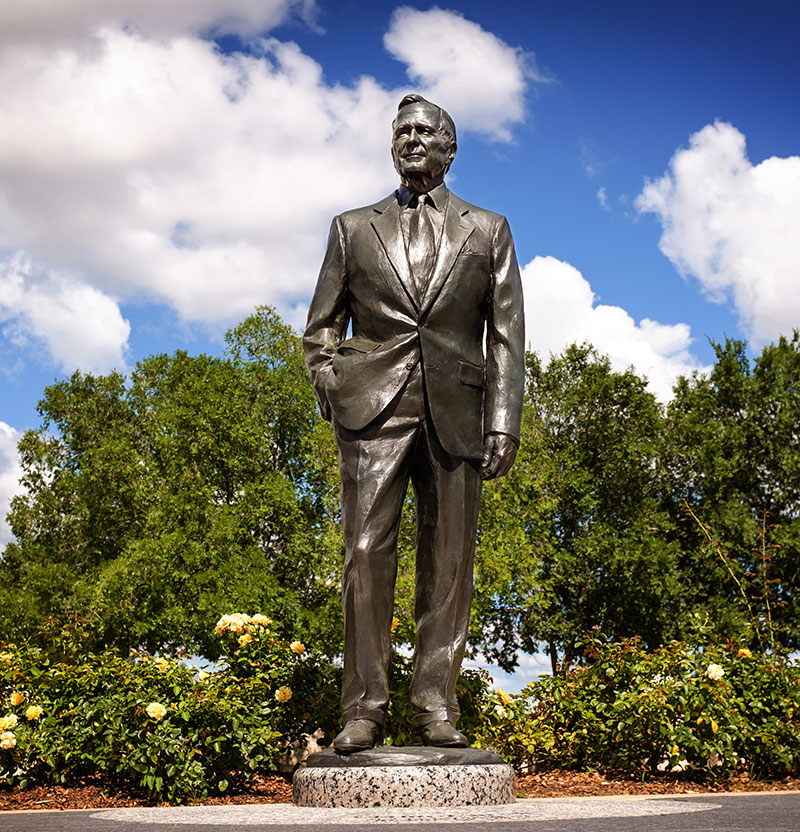 "The whole reason I'm in this job is because he engaged on those kinds of topics," said Welsh, who had planned on living a quiet life as a grandfather upon leaving the Air Force before being offered the job as dean of the Bush School. "It's about following the purpose of our namesake, which lines up so well with the principals and the ideals and the things this university stands behind. The core values of the university completely align with what President George H.W. Bush said about public service and that's why the students come."
Thousands of people from across the world will visit and pass the statue and share their own personal stories of the 41st president. Whether the emotions and memories are tied to Bush as a war hero, public servant or a warm and welcoming presence on the campus, his impact will be felt in the years to come as it continues to weave into the fabric of Texas A&M University.
"Our attachment to the Bush name will always bring esteem to this university," Young said. "The underlying themes that ran through his administration are so consistent with our values: particularly that of service, of a focus on people and making their lives better. This shared ethos will live on at Texas A&M in perpetuity."