The Foundation for Individual Rights in Education (FIRE) recently awarded Texas A&M University with its highest possible rating for free speech policies, making the campus the first and only university in the state to earn the distinction.
Texas A&M earned the "green light" ranking after a review of its written policies showed its rules fully align with the First Amendment. A&M is one of 45 universities nationwide to be granted the honor.
Administrators said they are determined to protect civil and constructive campus demonstrations and events that take place every year despite provocative speakers and events which have plagued campuses across the country.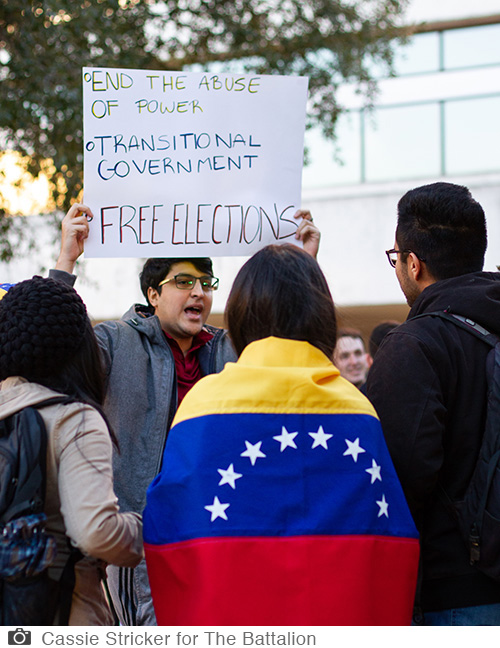 "The Foundation for Individual Rights in Education's speech ratings have become a measuring stick by which colleges and universities can assess their openness to speech and assembly on their respective campuses," said Dr. Daniel Pugh Sr., vice president for Student Affairs at Texas A&M, who led the effort to attain the designation.
College campuses are a natural place to discuss and debate controversial issues, he said, adding that such exposure to different ideas is a critical part of the educational experience.
"We feel our policies and procedures not only represent our core values, but affirm to our campus the vital role of free speech and assembly in educating students about the world's challenges so they are best prepared to form their own opinions and assume leadership positions in areas that matter to them," Pugh said.
When controversial speakers target university campuses to spread their messages, he said, free speech policies are put under scrutiny as campus administrators try to balance the right of free expression with concerns about public safety.
"It is unfortunate when certain speakers pull attention away from the thousands of campus events which take place on our campus every year which inform, engage and connect students, faculty and staff in meaningful and impactful ways," Pugh said. "Those events occur without fanfare or drama, but we are judged by the instigators who use our campus as their springboard for attention."
"By revising its policies to attain green light status, Texas A&M University is showing that its administration is serious about the university's commitment to free speech and its obligations to students and faculty," said FIRE Vice President of Policy Reform Azhar Majeed. "We hope that other colleges and universities in Texas will follow its lead and improve their own policies."
Texas A&M's "green light" rating indicates that its written policies do not imperil student or faculty free speech. Other possible ratings include red — the threat to free speech is obvious on the face of a university's policy; yellow indicates a university has restrictive policies; and blue means a university has been given a warning for not promising free speech.
FIRE's Spotlight Database and Activism Portal rates more than 450 colleges and universities based on the degree to which their policies protect or curtail free speech. With its revised policies, Texas A&M will ensure that its 69,000-plus students are protected by clearly written and constitutionally sound policies.
In January 2018, representatives from A&M's faculty, staff, administration and student body participated in a discussion about campus speech with the Texas Senate Committee on State Affairs. They left that meeting in San Marcos resolved to fine-tune campus policies on free speech and free assembly with the intention to better reflect Texas A&M's commitment to the First Amendment.
During the next several months, they compared the university's policies and practices to other campuses that had more clearly articulated commitments to free expression. Pugh worked closely with FIRE to review Texas A&M's policies. While some of the changes were simply administrative adjustments, others required a more formal effort to build consensus and adopt policy changes. The revised campus policies address demonstrations, bias incident protocols, internet usage, residence halls and soliciting.

The resulting designation was well worth the effort, Pugh said.
"Aggies will leave this university better for their experience and be prepared to lead our state, nation and the world in challenging times and dealing with challenging situations," he said.
This spring, Texas A&M will continue to pilot its Activity Resource and Response Team, which is charged with not just educating the campus community about endeavors related to expressive activity, but also assisting with those activities.
Learn more about free speech and the right to associate on campus through the Office of the Provost and Executive Vice President at Texas A&M.