Two beautiful lives were gone in a blink of an eye. Two young women with their lives ahead of them were gone in one fatal second. Two girls with gorgeous smiles were gone, never to be seen again.
My two sisters were gone.
One distracted driving crash took three lives that day. The causality count was three out of four, but in reality it went far beyond that as we all lost a bit of ourselves when lives with so much potential came to a tragic end.
17, 18, and 19 years old. As I contemplate the crash and relive these memories on paper, I desperately wish I could rewind the hands of time. I wish I could have my sisters back.
My youngest sister, Jade Robinson was 17 years old. Always the competitor, she had just received a volleyball scholarship to Tennessee Wesleyan University.
My other sister, Brianna Robinson, was 19, and just like her big brother was aspiring to become an educator. I will forever miss her laugh.
Their lives were taken by a driver who was distracted by what was on their phone. In an instant, the driver plowed into an 18-wheeler. My sisters and one other passenger died on impact, leaving our lives and our world forever.
My family has suffered indescribable pain. I have chills remembering my father and sister's mother having to view their baby girls' bodies. They were the pride and joy of Stacie and Toren Robinson.
This is a pain no other family should have to endure, and at the same time, it is a pain that could have been prevented. It won't bring my sisters back, but now more than ever Texas needs a statewide law to address this epidemic of texting while driving.
As a school administrator and former principal, every day I watch these young people addicted and attached to their cell phones. Their parents? They are no better. As a society, we recognize the power of these devices with instant access to information and instant gratification.
And yet at the same time, these devices we have come to rely on to live also have the power to afflict instant death.
Study upon study reaffirms the potential deadly dangers of distracted driving. These same studies demonstrate how the brain is cognitively, manually and visually distracted by a cell phone while driving. The science is there.
My career has been about educating youth and their parents. We can talk all day about the dangers of distracted driving; we can preach all night about the potential horrors of crashes; and we can encourage everyone to put down their phone. But this is one lesson that everyone is struggling to learn.
It is going to take more than just scientific studies and education campaigns — it is time Texas takes up the banner of safety by passing a distracted driving law that will cover the entire state.
This tragedy has diverted my career path from inside the school hallways to the roads and attention of the entire state. I am motivated and strong enough to be an advocate, a champion and a voice for my beloved sisters — sisters who in this life, I will never be able to hug again. I refuse to allow Jade and Brianna to die in vain.
What my family has had to endure is a pain like no other that we have ever felt. Seeing the face of your beloved one last time and saying goodbye all because of a text is a goodbye no other family should have to say. At the end of the day, legislation will be the only solution that can address this matter. It is going to take a law.
I am calling on the support of all Texas lawmakers to ease my pain, ease my family's suffering and help remember my sisters. I am calling on the support of all Texas lawmakers to do what they have been sworn to the office they hold to do: protect the citizens of Texas.
Gov. Abbott. Lt. Gov. Patrick. Speaker Straus. Members of the Texas House of Representatives. Members of the Texas Senate. Put yourself in my shoes; put yourself in my sisters' parents' shoes; or put yourself in my sisters' shoes. Please pass a law during the next legislative session and safeguard Texas families from pain. Distracted driving laws in our great state will save Texans the pain of always asking: "What if?"
At the end of each precious day, we as a state and we as humans know that there is nothing more important than life itself. Let us respectfully come together to work towards saving that life. For my family, for your family and for the State of Texas — when it comes to texting while driving, it can wait.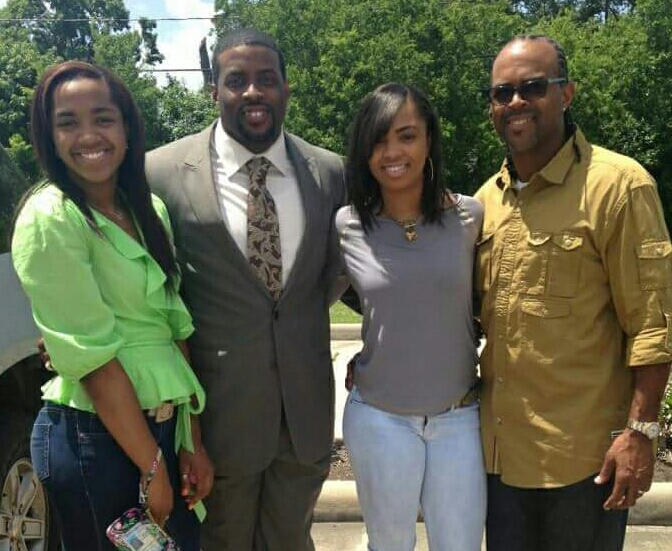 Pictured from L to R: Jade Robinson, Dr. Toron Wooldridge, Brianna Robinson, and their father, Toren Robinson
---
AT&T's It Can Wait campaign shares a simple message: Keep your eyes on the road, not on your phone. Last year, our campaign evolved as smartphone driving distractions have grown beyond texting to social media, web surfing, selfies and video chatting. No post, glance, email, search or text is worth a life ... It Can Wait.